The Move To Improve dance project puts our audience and community at the heart of what we do at The Octagon Theatre. Our aim is to understand more about why people may or may not come to see dance shows and to share some exciting dance with you on our stage. As of April 2020, we received funding to launch the first strand of this exciting new project, which will focus on bringing exceptional and diverse dance to the theatre. The first strand of the Move To Improve project will run for 18 months. Our ambition is to extend this longer term and we will soon be applying to support our community dance strand.
The Octagon Dance Hub
Through this project our aim is for The Octagon to become a 'Hub' for dance; a place where professional dancers, companies, dance students, dance graduates, dance enthusiasts, community dance groups and more will come together with a shared passion for all things dance.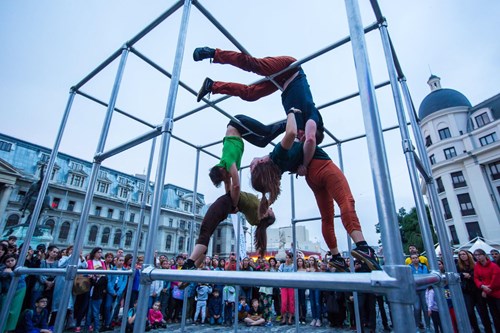 Contemporary Dance Series
We will be programming more Contemporary Dance companies to perform at the venue. Initially 4 companies will be chosen to perform – Rosie Kay, Tavaziva, Motionhouse and a fourth company to be selected with the help of our audience steering group. The key is to encourage more people to come and watch our dance series so we will be working to break down barriers with our audiences.
What is Contemporary Dance?

Katey Leader, Project Manager explains:  "Contemporary Dance means different things to different people and here is where things can get confusing. If we strip it right back to the beginning then Contemporary Dance was something new, innovative, different, breaking boundaries. It has since also become a defined collection of 'techniques' which people learn and repeat much like learning pre determined ballet sequences. People can now study degrees in Contemporary Dance (I know – I have one!) The breadth of Contemporary Dance is vast, some companies are quite relatable to those who enjoy ballet; demonstrating the extremely impressive and visually pleasing steps to music like Richard Alston Dance Company. Some Contemporary Dance companies can be similar to physical theatre companies; using drama and physicality to express a mood, emotion, story or theme like Jasmin Vardimon Dance Company. Some use technology and film to add to the exciting nature and maybe Circus like tricks to create a movie style performance like Motionhouse. Some are still very much taking risks, pushing audiences to experience something new. The list is endless. So it is impossible to say you don't like Contemporary Dance where the menu available is so vast, instead you just need to discover you taste and that's what this project aims to do."
Why is Dance an important part of the programme at The Octagon Theatre?
Adam Burgan, Theatre Manager: "My first experience of live theatre was when I was a small boy and my parents took me to see 'The Nutcracker' performed by Birmingham Royal Ballet at the Birmingham Hippodrome as a Christmas treat. I remember the tree growing, the snow and the mice! I was capitavated by the music and the dancers and it started my passion and love of theatre. The arts are a universal language and dance and music in particular need no words to convey emotions, ideas, tell stories and bring joy and entertainment. Arts and culture have a pivotal role in our health and wellbeing – they can provide escapism, inspire us, help us to learn things about each other and the world around us. Artists are storytellers at heart and our stage is their canvas – a blank space just waiting to be brought to life. The Octagon Theatre is so lucky to have a large stage and fantastic seating with excellent sight lines that wraps around the stage creating an intimate experience with the capacity to bring medium and large scale companies who are presenting incredibly exciting new work. The programme on stage inspires our participatory work offstage and we are very proud of our dance classes as a place where people can learn new skills, improve their fitness and mental health, make new friends and have fun. Somerset produces amazing talent and there are so many wonderful dancers from our area who have gone on to professional careers – for many their first experience of dance will have been in our theatre. We aim to provide a diverse and exciting programme that carefully balances arts and entertainment and where there is 'something for everyone' and our audiences are spoilt for choice and can discover something new. We want the Octagon to develop as a place where our guests can enjoy the very best performances and where inspiration, entertainment and joy can be found everyday."
Our Audiences' Voice
We are really keen to listen to our audience and to help shape our dance programme around what the community would like to see. We want to work with our audience and challenge them to take a risk and watch something they wouldn't necessarily have chosen. To help facilitate this we have created an Audience Steering Group, which consists of a representation of our Octagon community, including members of our Foyer Club, Octagon Academy, local secondary school teachers, dance teachers, young people and local residents. We have ensured that we have a mixture of people; some who would watch dance but maybe not 'contemporary' dance, some who attend the theatre but not to watch dance specifically and of course we have some keen dance fans too.
Taking the excitement of an Octagon show out into our Community
Motionhouse have performed their exciting dare devil dance shows at the Octagon for a number of years and so this project will enable us to take their dance shows into our community. Throughout Summer 2020 & 2021 we will be supporting the performance of Motionhouse's outdoor performance work at local festivals throughout South Somerset. You can have a look at some of their previous outdoor work here - https://www.youtube.com/watch?v=NNhgRkro8tU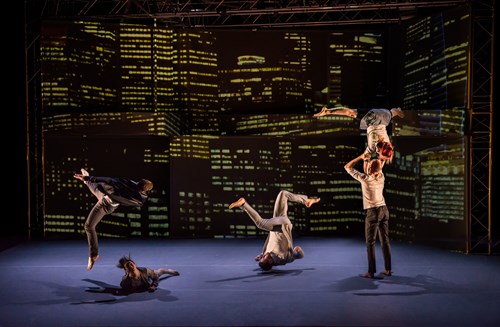 Working with local Professional Dancers
We will be working closely with Somerset Graduate Dancers on this project to support their careers and to have their input on the project moving forwards. We hope to offer opportunities for them to gain work experience and to support them to network and develop their work. We will also be co-commissioning a dance company to create a new piece of work and to use the Theatre for part of their creative process. We hope to be able to invite out local community to watch some of these things in practice.
Making dance more accessible
We already know there are several barriers which may stop people attending dance shows and so this project hopes to help breakdown some of these. To make dance more affordable we will have several ticket offers available that reward multiple bookings. We will also be working with Yarlington Housing Group to offer their residents £3 tickets to our Contemporary Dance Series, and will work on initiatives with Yarlington to make visiting the theatre more accessible.
We are looking to ensure everything we offer is inclusive for everyone and promoted as such. We want our audiences to feel adventurous and deepen their understanding and appreciation of dance. This is an opportunity to discover new things.
Working with venues across Somerset
We have partnered up with theatres and arts venues across Somerset who programme dance of any style, to create a Somerset Dance Brochure. We want the brochure to collate and showcase all the planned dance activity over the next year within Somerset. The brochure will promote each venue and bring us together in support of Somerset's dance offer. Through this project, we want to put Somerset on the map for dance.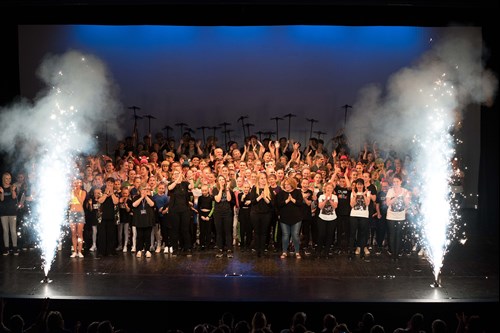 Next Steps and more for our Community Dance Groups
Now this first strand is up and running we are busy getting the next strand ready which will have more of a focus on getting our communities up and dancing. This will include an exciting project for schools, more Octagon Academy Classes, performing and teaching opportunities for dance graduates, developing our youth dance work, taking our community classes out into the community and ensuring our Octagon Community feel connected both to each other and to the professional work at the Theatre. We hope this work will start in January 2021.
Move To Improve project team, funders and partners:
Project Manager – Katey Leader
Project Co-ordinator – Katherine Hoskins
Venues Manager - Adam Burgan
The team at The Octagon Theatre and Westlands  Entertainment Venue are each supporting the project with their specific areas of expertise.
This project is funded through Yarlington Housing Association, South Somerset District Council and Arts Council England. 
For any enquiries about the project email - Katherine.Hoskins@SouthSomerset.Gov.Uk