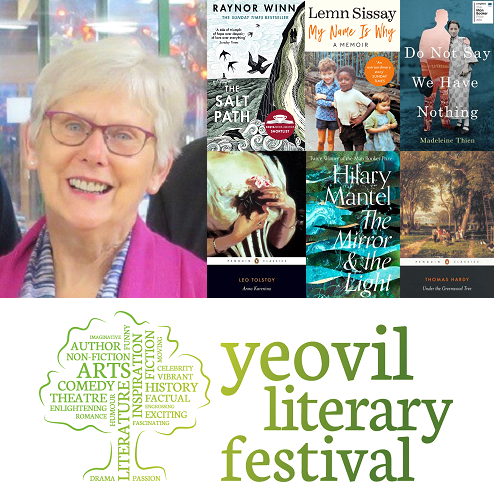 Did you know a third of the nation are reading more than ever before in lockdown? We recently asked Yeovil Literary Festival Director and friend of The Octagon, Liz Pike, to share her lockdown favourites with us. We hope her book recommendations will inspire you to pick up an old favourite or discover a new author.
Now this will be difficult because everyone enjoys a different type of book. Every book is a new world as soon as you open the cover so if it transports you away from current circumstances, then it is a good book!
I enjoyed The Salt Path by Raynor Wynn and am looking forward to reading her next book. This showed off our gorgeous South West Coast Path through their journeying, not only against the elements but against their predicament due, in my opinion, to injustice.
Lemn Sissey's biography My Name is Why, is sad, enlightening, and full of questions followed by love. Quite a read this one!
An outstanding book I found was Do Not Say We Have Nothing by Medeleine Thien. This was longlisted for the Man Booker Prize 2016 and I read it then. The following year I listened to Madeleine talking at the Hay Festival. Such a peaceful, quietly spoken lady who had told such a huge story. The Chinese revolutionary history is starkly told in a way that any reader will be shaken by; a memorable read.
Is it time for an epic read? If you have not read Leo Tolstoy's Anna Karenina then now is the time. There are passages of such sublime writing in this book peopled with characters, time and places that stay with you.
Of course, there is the Hilary Mantel trilogy. I am about to plough into the Mirror and the Light, with Thomas Cromwell – that most intriguing character – coming to a conclusion. This will be so pleasurable after reading Wolf Hall and Bring Up the Bodies.
For pure relaxation but learning something from novels by these authors, as their research is impeccable, I enjoy Tracey Chevalier, Victoria Hislop, Salley Vickers or Natasha Solomon. Thomas Hardy's Under the Greenwood Tree is a good introduction to his writing, and I love his short stories if you have never read any of them.
Reading is a personal choice but being in a book group enables you to stretch your reading horizons, by exploring the books chosen by other people. There's never ending pleasure in books and our future literary festivals will bring such diverse authors to Yeovil, something to look forward to.
We look forward to seeing you at the Yeovil Literary Festival from
Thursday 29 October - Monday 2 November 2020.