For the first time in its history The Octagon Theatre, Yeovil, has sold 130,000 tickets in its last financial year. The theatre, which is owned and managed by South Somerset District Council, has seen record attendance during 2016/17.
The theatre has a seated capacity of 622 and provides a diverse programme of live arts events from comedy to opera, ballet, drama as well as acting as a meeting space for local groups and providing a busy schedule of participatory classes through The Octagon Academy.
2016/17 event highlights included: a week-long visit from the National Tour of Agatha Christie's The Mousetrap with every performance selling out; The Yeovil Literary Festival welcomed speakers such as Alan Carr, Victoria Hislop, and Simon Weston, and was attended by over 4,000 people; the 2016/17 Christmas pantomime Peter Pan broke attendance records with over 29,000 tickets sold and there were numerous other sold out performances including The Proclaimers, Russell Watson, Rob Beckett, Jasper Carrott, The Ukulele Orchestra of Great Britain and Ruby Wax.
Sales of 130,000 tickets for the 2016/17 financial year saw an increase of 10,000 tickets from the previous 2015/16 financial year.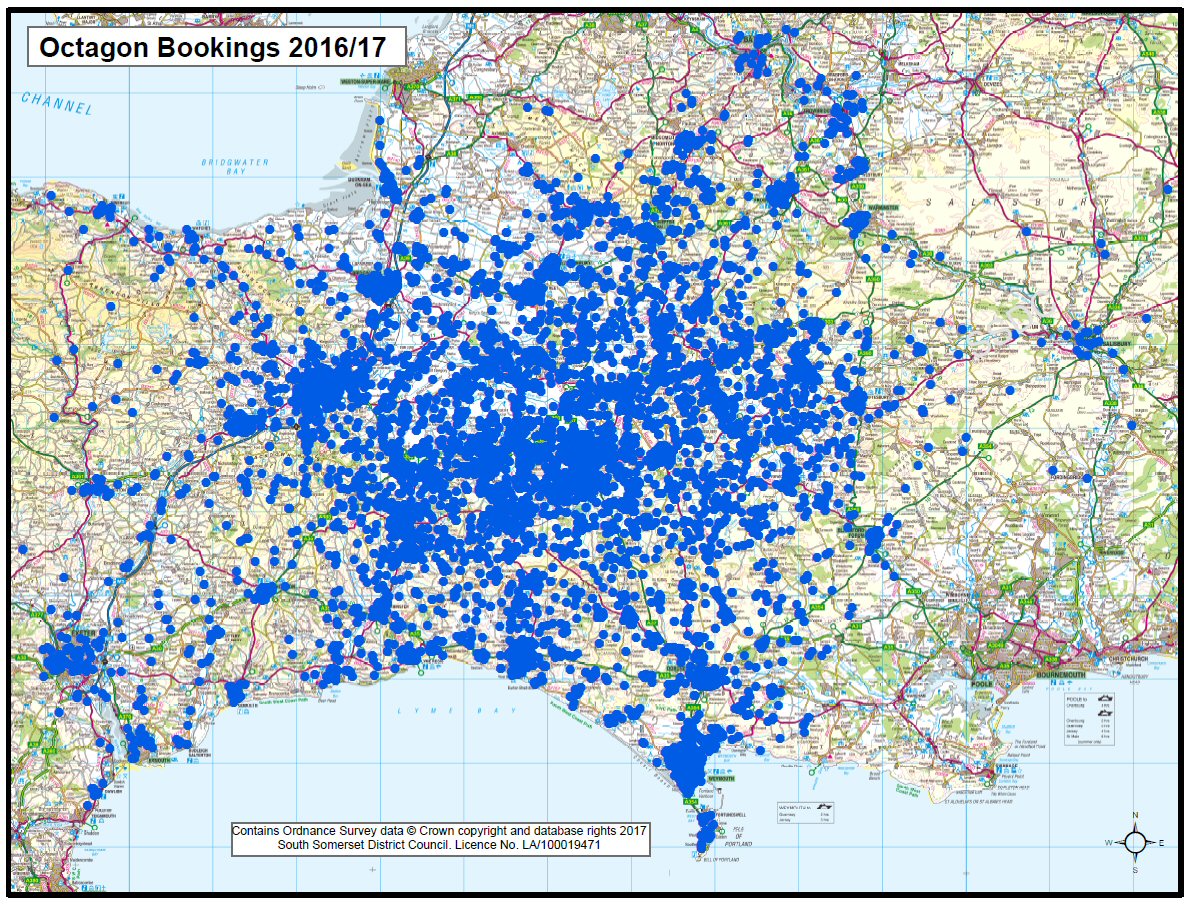 A map showing the location of patrons who purchased tickets across the South West during the last 12 months. Each dot represents a booking but does show not the number of tickets booked or the number of times the customer booked.
Adam Burgan, Arts and Entertainment Venues Manager, said, 'The Octagon Theatre is going from strength to strength and it is fantastic to see more people than ever before coming through the door and enjoying a great night of entertainment. The variety of performances and events at The Octagon means there is something for everyone. At a time when some venues are struggling it is great to see The Octagon thriving and we hope that everyone feels proud of what is being achieved.'
He added, 'South Somerset District Council has long prided itself on providing superb arts and entertainment at our flagship venue and we are delighted to see so many people using this much-loved facility. The economic impact of the theatre on the area is key to developing our night-time economy and also all the other local suppliers that we champion. Visitors from right across our district and beyond are using The Octagon Theatre and the record growth is certainly to be celebrated.'
With 10,000 tickets already sold for this year's Christmas pantomime, Cinderella, the addition of a new venue now being run by the team at The Octagon Theatre (Westlands Entertainment and Conference Centre), and more high-quality and diverse programming of arts and events in South Somerset, The Octagon Theatre prepares for another busy year welcoming audiences from Yeovil and beyond.
For more information about The Octagon Theatre or to book tickets visit www.octagon-theatre.co.uk or call 01935 422884.