Summer will soon be here and if you are on the lookout for some activities to keep your little ones entertained during the holidays then look no further…
This summer as part of the Octagon Academy, we have a series of summer schools on offer for children and young people. Our Octagon Academy Summer Schools give local young people the opportunity to develop confidence and practice performance techniques, whilst encouraging their understanding of the arts in a friendly and professional environment.
Castaway's Summer School: Snow White & Friends, The Next Chapter
Monday 7 - Friday 11 August | 10am - 3pm daily | Age: 7-16 years | Course Cost: £125
Come and join Castaway Theatre Group as we wonder what really did happen next to Snow White, did she really live happily ever after?
This is a story about Snow White when she was woken up by a kiss from her Prince. Did they get married? Did they live happily ever after? What happened next? Learn a script, songs and dances to bring our story to life in five days to then perform it on stage on Friday night for all our parents and friends.
Book now for Castaway's Summer School.
Stuff & Nonsense Theatre Summer School
Monday 14 - Friday 18 August | 10am - 4pm | Age: 12-18 years | Course Cost: £125
A fantastic opportunity to take part in a week of workshops, using your ideas to create puppets, songs and poems, working towards an entertaining evening of informal 'cabaret style' performance, where you can invite friends and family to watch.
The workshops will be led by professional artists from Stuff and Nonsense Theatre Company, who are well known for creating shows using puppets, comedy and music.
Holly Miller, designer and puppet maker, will guide you through the process of creating puppets for the show. She will also bring many of her show puppets for you to try out, so that you can see how they work.
Director Niki McCretton, and Composer (TBC) will work with you to create performances in small groups, writing songs or comedy sketches for you or your puppet to perform.
You don't need any experience to do this just bring energy and a willingness to get creative. No one will be made to perform; there will be lots of other jobs to do to make the Cabaret brilliant! The workshops each day will allow you to spend dedicated time creating puppets, and then have devising and performance sessions to create the pieces. The emphasis is on being creative and on enjoyment, but also to be pushed to create something brilliant.
There are no auditions for taking part and everyone is welcome.
You will need to bring clothes that you can move in easily, as there will be a physical warm up and puppetry is often quite tiring! Jogging bottoms/jeans or leggings and trainers are great.
Book now for Stuff & Nonsense Theatre Summer School.
Somerset Youth Dance Summer School: The Greatest Show
Monday 21 - Friday 25 Agust | 10am - 4pm | Age: 7-16 years | Cost: £135
Roll up roll up… if you are always dancing away, practicing your favourite tricks and imagining you are part of The Greatest Show then this summer school and performance opportunity is for you!
Somerset Youth Dance Company, run by Katey Leader and the Octagon Theatre, have come together for the second year running to offer this exciting week-long summer school. Each day you will take part in a range of dance and performance styles including Jazz, Street Dance, Contemporary, Latin, Tap and Circus, learning and creating routines to The Greatest Show. By the end of the week, you'll be putting on a show stopping performance on the Westlands stage.
On Friday, the Westlands Ballroom will become a circus tent for the evening, and you will all help put together and perform 'The Greatest Show' for friends and family to come and watch.
So, get your top hat ready for this fun week of dance, suitable for all levels and experience.
Book now for Somerset Youth Dance 'The Grestest Show' Summer School.
'Tiny' Somerset Youth Dance Summer School
Wednesday 23 - Friday 25 August | 9am - 10am | Age: 3-6 years | Cost: £20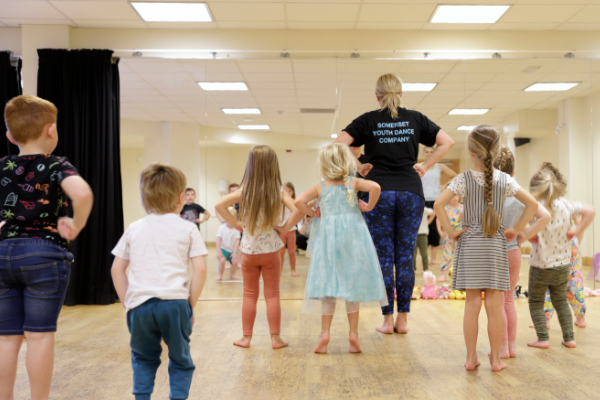 Our Tiny Summer School is a chance for the younger dance enthusiasts to come and have some dancing fun. Katey Leader from SYDC & Tiny Dancers will be teaching these 3 workshops with the option for them to perform on the Westlands stage what they have learnt on the Friday.
Dancers will learn a fun, upbeat dance or two to pieces of music inspired by the fun of the circus. Will incorporate some Jazz, contemporary, circus & modern dance styles using music they will know and love.